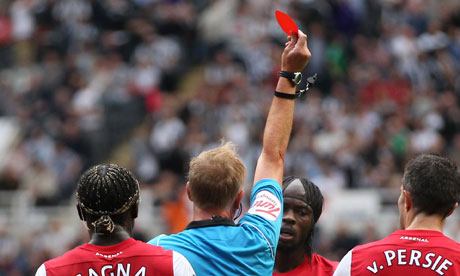 Frankly, I might as well just cut and paste different bits from match reports from last season.
Apart from better defending, everything I watched today I've seen before: Arsenal denied a perfectly good penalty; Arsenal player sent off in ridiculous refereeing injustice; Joey Barton being a Grade A tosser.
It was a very odd match. After pressing for the first few minutes we dropped off and let Newcastle have a sizeable amount of the ball. There was no thrust to our play apart from Gervinho's dribbling, and pretty much zero chance of us scoring. Van Persie was isolated and Rosicky isn't Cesc.
But equally, we appeared very solid defensively. It underlines the point I've been trying to make all summer: the centre back we want to sign is somebody better than Seb Squillaci, but somebody who is going to be 3rd/4th choice. And it's hard to find somebody of the requisite quality who doesn't command a huge fee.
All of this said, I think it's easy to read too much into the defensive display: ignoring the controversial incidents, this was a very boring match in which very little happened.
So, to the incidents: first let me say that Alex Song is an absolute cretin. You can arguably make the excuse that Gervinho doesn't know about Joey Barton, and that it's hard not to react.
Song, on the other hand, just stamped on Barton.
He'll be banned for three matches and quite right too - and consequently we'll be without our best holding midfield player against United. Terrific.
But it was incident number two which has sparked all the conversation.
Jack Wilshere had this to say:
That is not football! I am pretty sure abu diaby got sent off for that last year!less than a minute ago via Twitter for BlackBerry®
Favorite
Retweet
Reply
Jack Wilshere
JackWilshere
To be honest, I think Jack misses the point. Abou reacted last year with
a push
after
a bad tackle by Barton
.
This year, Gervinho did nothing wrong, and Barton tried to grab him by the neck. It's completely ridiculous, not least because it was a penalty.
And it particularly upset me, as if you watched Gervinho all afternoon, he was constantly dribbling into the box and making dummy movements trying to get the defenders to foul him. Finally, Tiote ankle-tapped him and yet the penalty wasn't given.
On top of that, Gervinho was sent off, and Barton got away with what was essentially assault. As I say, same old, same old.
Ultimately, worse things happen than drawing away at Newcastle, particularly as we played pretty poorly. But equally, the next three matches are tough. I think the week ahead could be very interesting. Defeat to Udinese and no signings, and the stadium could be a horrible place to be come next Saturday.
Keep the faith.