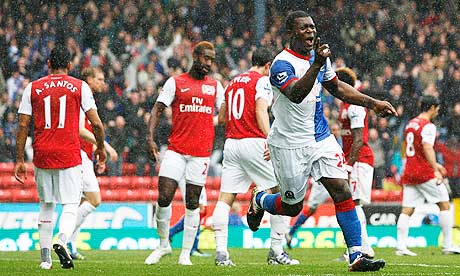 Blackburn Rovers 4 Arsenal 3
For all I said that it was time pressures which precluded me from blogging as much as I used to, it's also that I don't really see the point of writing the same thing over and over again, especially when other people are also writing the same thing.
What am I supposed to say? Blackburn are truly abysmal and Steve Kean is one of the worst managers in Premier League history.
If there was any team we should be able to beat, it's them: they're in even worse form than us (probably), and trailed twice. And yet we lost the game.
How many teams could have 43 shots on goal over two away games, score five goals, and still lose both games? It is beyond a joke.
I have never seen a team flood the opposition with confidence like this Arsenal team, and it sure doesn't feel seven months ago that we beat Barcelona at home.
For what it's worth, I'm not sure we've ever got over the Van Persie red card in the Nou Camp.
We don't need a defensive coach, so much as a sports psychologist who can sort these guys out mentally.
It's all very depressing. If you want to find out what happened during the match, the Guardian has a match report
here
.